In the current context where financial instability and market volatility are the order of the day, it is normal that more and more companies want to improve their Financial Planning and Analysis (FP&A).
Financial planning and analysis supports the organization's business and financial decision making.
Broadly speaking, FP&A is based on four pillars: budgeting, financial planning, management reporting and scenario simulation.
For many years, finance professionals have used Excel templates as an analysis tool. However, with the evolution of new technologies this procedure has become obsolete.
Today, there are much more specific alternatives to spreadsheets; which are platforms specifically designed to plan and simulate (Financial Planning, FP) or to analyze and make decisions (Analysis, A, that would correspond to the Business Intelligence part).
The purpose of this article is to shed light on the basic concepts of Financial Planning and Analysis, as well as the importance of using FP&A software tools to make the best decisions in the different areas of the business.
What is Financial Planning and Analysis (FP&A)?
FP&A stands for Financial Planning and Analysis.
Financial planning and analysis is the forecast of the company's entire financial statements (Income Statement, Balance Sheet, Treasury, Cash Flow), as well as the comparisons and analysis of the current situation with respect to the historical or the company's performance over the previous forecast.
The forecast also provides an overview to the Board of Directors and Management on the evolution of the organization's strategic plans and investments.
Therefore, FP&A planning tries to optimize financial management, supporting executives in the decision making processes and facilitating a strategy based on reliable and objective data.
FP&A professionals
The Financial Planning and Analysis team usually reports directly to the CFO (Chief Financial Officer) and is frequently in contact with all areas of the company: operations, marketing, sales, accounting, treasury, among others.
Their task is to forecast the company's finances, so they need to know the company's historical performance and understand the key trends that could affect future performance.
The following are the specific responsibilities of the FP&A team.
Budgeting and forecasting
The main task of FP&A is to connect the strategic plan made by Management with the current situation of the company.
In other words, Management designs a plan for the next 2, 3 or 5 years, and the FP&A team is in charge of creating an annual operational and financial plan to achieve the long-term strategic plan.
Decision advisory
In addition to forecasting, the FP&A team also advises Management on how to improve performance, minimize risk or identify new opportunities, both internally and externally.
In this regard, it is common for them to carry out a monthly book for the CFO with sufficient information to optimize performance or achieve the objectives.
More specific functions
The FP&A team also works on other specific projects, such as mergers and acquisitions, process optimization, market research or capital allocation, among others.
Importance of financial planning and analysis
Financial Planning and Analysis provides a wide range of benefits for any company, let's see some of them:
It predicts the possible risks to which the business is exposed, designs an action plan based on the forecast, and determines the actions to take according to future business needs.
It improves decision making based on reports and financial data taken in real time. Due to the changing context, this point is key for many teams of the different departments to be able to redirect deviations from budget and results.
Makes revenue projections to adapt to current conditions and plan new actions to optimize business performance.
Analyzes whether resources are being invested according to plan, and their availability, both now and in the future.
Reviews and studies commercial processes to identify whether they are achieving the objectives set in terms of budgets and profitability.
Monitors cash flow in real time, to keep up to date with revenues and check that financial planning is being met.
Measures all tangible assets of the company, beyond cash. In this way, it is possible to assess whether it is advisable to make them liquid or not.
Constantly studies the financial profitability of each department and of the company as a whole, to determine what should be boosted.
Carries out comprehensive financial and economic projections.
These are some of the many benefits of financial planning and analysis in a company.
Therefore, FP&A data analysis seeks to take advantage of opportunities, as well as to avoid risks that could lead to a business crisis.
In short, financial planning and analysis provides access to key information at the corporate level, thus facilitating decision making for the entire company.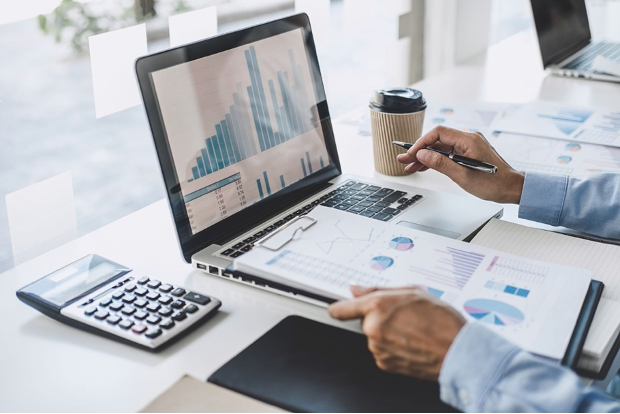 Software as a FP&A solution
We have seen that financial planning and analysis has a wide range of business benefits, but tackling it manually is a complex and inaccurate process.
While Excel spreadsheets remain as the most widely used tool for many finance teams, organizations are increasingly faced with greater data volume and process complexity; managing this constant variability at a high level of detail is very difficult in Excel, where you end up with manual errors, data inconsistency or loss of information.
Even if we have highly qualified people, who hardly make any mistakes when performing the operations, the question is: what is the cost of all the time spent by financial experts in performing such analyses?
This question leads us to consider the possibility of implementing an FP&A software tool to automate and optimize financial planning and analysis.
An FP&A solution significantly improves the finance department by providing continuous forecasting in a fast and agile manner.
In this way, leaders will be able to analyse, at any time, the reports on the financial situation of the organization, which will allow them to redesign plans according to business trends.
For all these reasons, using a financial planning tool is much more effective than using Excel, for example.
Conclusion
As companies continue to grow into more dynamic and larger models, forecasting will become gradually more difficult, either due to an increase in business or the growing amount of information needed to build the forecasting model.
However, by implementing a continuous forecasting and analysis process, using FP&A solutions, companies will be better prepared to meet the challenges with a higher probability of success.
FP&A software is a model that optimizes the organization's financial management because it allows financial departments to extract valuable information quickly and accurately.
FP&A tools obtain data efficiently and in real time, automating many tasks and working in collaboration with other business tools such as ERP or CRM used at the corporate level.
Want to know more about FP&A? Contact us and we will answer all your questions personally.