Board International was founded in the 1990s with the aim of being a Self-Service Analysis and Reporting, which goes through giving users the independence to create their own reports, without depending on the IT department or on an external consultancy or software publisher.
From the beginning, BOARD was considered as a Business Intelligence (BI) and Enterprise Performance Management (EPM) integration solution aimed to maximize efficiency in business decision making.
Its functions covers the generation of reports, multidimensional analysis, ad-hoc inquires and dashboard creation. It also works for managing and monitoring all planning processes and performance control with budgets, forecasts, profitability analysis, simulations or financial consolidation, among others.
In short, BOARD unifies in a single platform different key functions for business management, based on the all-in-one philosophy.
What is BOARD?
BOARD is a software platform that brings together Business Intelligence, Predictive Analytics and Corporate Performance Management in a single integrated environment.
In this way, all 3 areas are connected to the same database and run on the same platform.
This is a great advantage, as most companies work with their own decentralized Business Intelligence (BI) and Enterprise Performance Management (EPM) systems, which means different databases, and interfaces that have to be created to connect them.
In the end, it leads to a segregated company's decision making process.
However, BOARD integrates in a single solution a powerful BI ecosystem to design and digitize business processes, mainly related to planning and simulation.
In this regard, it offers a comprehensive solution, since planning & simulations, scenarios and forecasts elaborated are immediately available for being analyzed against the real information, closing the loop between planning-analysis-monitoring.
In addition, BOARD facilitates user interaction through an advanced interface, allowing users to create, customize and maintain BI and CPM applications in an agile way without requiring prior programming skills.
This makes the task of creating reports or analysis simple and functional.
In short, it provides a robust solution to manage key processes such as:
Self-Service Analysis.
Control panels: dashboards, scorecards, KPIs, …
Planning and simulation of any business process.

Financial Planning (P&L, Balance, Treasury, Cash Flow).
Commercial Budgeting.
Rolling Forecast.
HR Planning.
Cost allocations.
Operational process management.
Scenario simulation, new products, new locations, etc.

Native integration with Office.
Alerting and broadcasting: being able to share any information to any part of the company.
Automatically adapts to any platform (PC, Tablet, Mobile).
Predictive Analytics.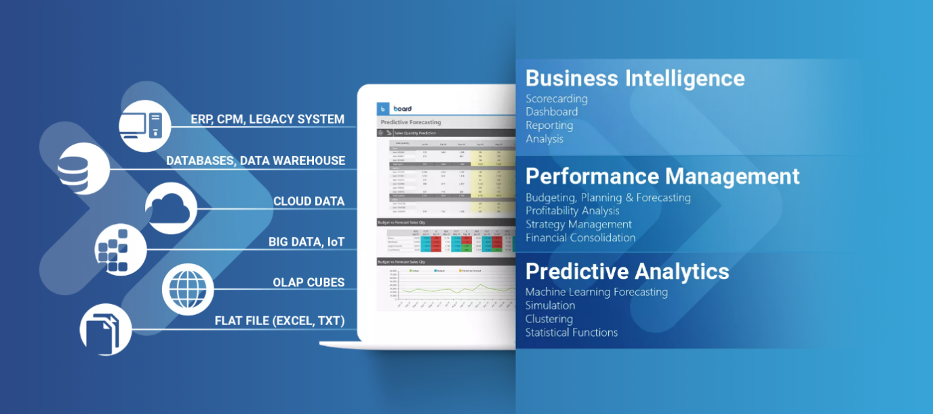 Who is BOARD for?
BOARD is a software for companies that want to have a single, integrated platform that allows them to manage Business Intelligence and Corporate Performance Management in a simple and highly effective way.
It is mainly focused on companies that need to optimize, digitize or improve their processes by integrating them into a robust platform. BOARD allows to customize and adapt the functionalities one hundred percent to the requirements of each business.
User-friendly software design
From the beginning, BOARD has empowered the ease of use so that business teams can create their own reports and analysis, as well as manage their business processes without having to rely on IT department.
Thanks to the self-service design, a high degree of functionality and flexibility is achieved, allowing the implementation of customized solutions based on the specific needs of each department or business area.
Main benefits of BOARD
Board offers a wide range of benefits, including the following:
All in One
Board unifies all information and shares the same metrics, data and insight on customers, products and markets.
Business Intelligence, Performance Management, Analytics and Data Discovery on a single platform.
Saving time and reducing costs
Thanks to the Board toolkit, customized analysis and planning applications can be created in an agile way without the need to develop any code.
Fast and easy to use
Board is software designed to operate at high speed with high performance.
It has a system that allows the search for information, interaction with data and in-depth analysis with maximum simplicity.
In short, BOARD improves and streamlines decision-making processes, enabling an effective management with less effort and resources.
For further information on BOARD, contact our team of experts. We will answer all your questions as soon as possible.