Engaged with your projects
Our vision understands technology as a means to add value to organizations. Holistic's services are focused on structuring data in order to be able to measure and control information, providing the business with automated solutions that streamline data management processes. Additionally, we incorporate statistical prediction and forecasting methodologies that support decision making.
We maximize the value of data, transforming it into useful information with the aim of improving analysis and decision making processes based on the knowledge acquired.
Process automation guarantees up-to-date information that streamlines monitoring and decision making.
A single point of access to information avoids duplication. Good data traceability minimizes uncertainty.
Decision making based on reliable and robust information, with autonomy to elaborate ad-hoc analysis.
Robust and scalable ecosystem implies less dedication to maintenance and more focus on the creation of analysis that adds value to the business.
We automate business processes so that you can focus on the outcome and methodology, leaving aside execution problems.
We have experience in optimizing and redesigning processes such as Commercial Forecast, Financial Planning and Consolidation, HR Management, Stock Management, among others.
Processes with a clear and well-defined flow controlled by stages and other signal mechanisms.
Based on a single repository, avoiding duplication and mistakes.
Automated distributions and calculations that allow the intervention of people in the stages of greatest value (data entry, proposals review).
Cost Sharing, Rolling Forecast, Incentive Models, Accounting or Analytical Financial Consolidation.
Simulation & Scenario Planning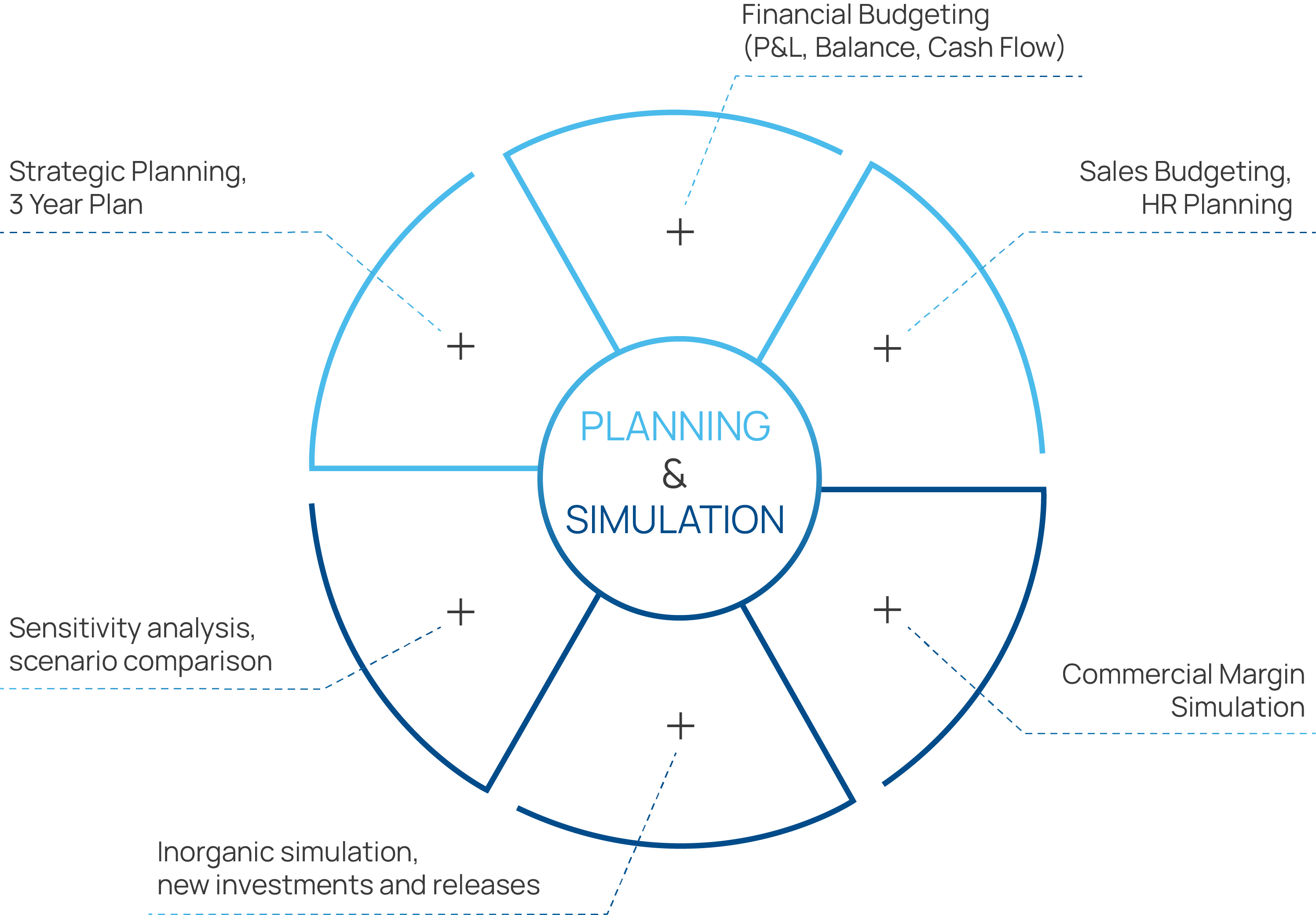 Design of tailored planning processes for each business:
Plan the near future or the global strategy of the company.
Robust applications that feed on historical information to project Forecast or are based on 0-based budgeting processes.
Complex calculations that are supplemented with inputs entered by users.
Applications to simulate scenarios that provide new business insights:
High-level strategic simulations that impact the entire organization down to the smallest level of detail.
Integration of new variables that are outside the current scope, inorganic growth, new elements (products, customers, stores, factories) and how they may impact the business.
We implement solutions based on Board, Power BI and Lucanet platforms. We are experts in carrying out tailored developments to fit our clients' needs.
Explore our success stories